Pause to Practice Gratitude
As we approach Thanksgiving, a national holiday centered on gratitude, we thought it was the perfect time to express our appreciation for our clients. As we celebrate the firm's third anniversary, we recognize these past few years have been stretching; but our clients have stayed focused, generous, and open to new ideas and plans, which have helped them remain aligned with their long-term goals. We hope this November is filled with gratitude for you too.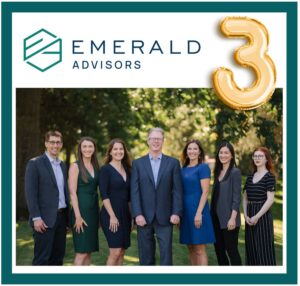 As we kick off this month, we eagerly await the next Federal Reserve announcement expected on the 2nd. This month really is a doozy for the country with more expected rate hikes and a general election coming up. With Christmas approaching, we know it's going to be busy, and many will feel the pinch more this year than in the past. To tackle this, we discuss worry and mindset on the blog; we think it's worth the read. Giving Tuesday is at the end of this month, and it's a time of year when we can help clients achieve their philanthropic goals for the year. This is one of the financial actions we suggest making before the end of the year. Visit our blog below to find out our suggestions. Also noteworthy are the recent announcements made by both the IRS and Social Security. You can find out more by clicking any of the highlighted links above. 
Happy Veteran's Day to all our brave service men and women who sacrificed, we honor you and your families this month. 

If you would like to talk, call (425) 458-3853 or click the link below to make an appointment. 
Disclosure: Emerald Advisors, LLC is a registered investment adviser.  Information presented is for educational purposes only and does not intend to make an offer or solicitation for the sale or purchase of any specific securities, investments, or investment strategies.  Investments involve risk and, unless otherwise stated, are not guaranteed.  Be sure to first consult with a qualified financial adviser and/or tax professional before implementing any strategy discussed herein. Past performance is not indicative of future performance.
©Emerald Advisors, LLC