Everywhere you turn, doom and gloom show up on our media platforms — inflation, recession, volatility, stagflation, and on and on. Of course, we don't recommend sticking your head in the sand and ignoring the realities of our world. However, at some point, too much bad news or fear of the future can damage one's mental health. Moreover, this impact can create a knock-on effect, eventually reaching your investments. 
Our emotions and feelings are powerful. However, they should help us identify problems while not being the solution. For example, when the world entered a global pandemic, we sent out an email to all our clients, and this is what we said: Keep calm and stay invested. Emotions were high, but they were not the rudder. 
Imagine market volatility like crashing waves against your life's ship. Then imagine dropping an anchor to keep your boat from being thrown. A financial plan is like an anchor during times of volatility. It doesn't remove the elements and impact, but it can be a steadying force to see you through the storm and, hopefully, calmer waves once the storm subsides. To drive home this concept, here's a quote to ponder:
"Successful investing is about controlling the controllable. You can't control what the market does, but you can control what you do in response. In the long run, your returns depend less on whether you pick good investments than on whether you are a good investor." — Jason Zweig 
Put another way; financial planning is more about being proactive than reactive. Being proactive means honestly assessing your financial situation and adjusting for what you can control. Being reactive means the market dips, and you pull everything out, responding to what you have no control over. When emotions are involved, it makes it difficult to clearly see everything you do have control over. So, to help paint a picture, here is a comparison to add more perspective: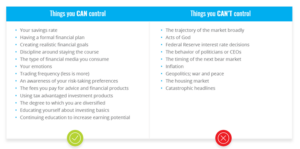 When you look at these lists, it's worth focusing on the fact that the longer list is what you can control. Bad news in the media can cause us to feel out of control of our future. We aren't saying certain aspects of investing aren't tricky right now, but what we are saying is creating a healthier mindset toward investing can help combat current worries. The list of what you can control can be a helpful dose of positive reality, something we all could use a little more of these days.
[i] Crosby, D. (2022, February 18). View.highspot.com. Should I Be Worried? An Investor Litmus Test. [Online] Available at: Orion Engagement from Marketing Team (highspot.com)
Disclosure: Emerald Advisors, LLC is a registered investment adviser.  Information presented is for educational purposes only and does not intend to make an offer or solicitation for the sale or purchase of any specific securities, investments, or investment strategies.  Investments involve risk and, unless otherwise stated, are not guaranteed.  Be sure to first consult with a qualified financial adviser and/or tax professional before implementing any strategy discussed herein. Past performance is not indicative of future performance.
©Emerald Advisors, LLC