Markets End May Mostly Up and Construction
Spending Climbs Higher
Global Equity Markets Mostly Up in May
Global equity markets were mostly positive for the month of May, as the larger-caps outperformed the smaller-caps, value stocks outperformed growth stocks, and the blue-chips outpaced the technology-names. And May also saw Wall Street struggling between the competing forces of positive economic news and much-better-than-expected corporate earnings on the one hand and inflation and tax worries on the other.
For the month of May:
• The DJIA was up 1.9%;
• The S&P 500 was up 0.5%;
• NASDAQ was down 1.5%; and
• The Russell 2000 was up 0.1%.
In addition, all 35 developed markets tracked by MSCI were positive for the month of May, with the MSCI Europe ex EMU Index leading the way with a monthly gain of over 4%. And of the 40 developing markets tracked by MSCI, 34 of those were positive in May too.
Construction Spending Up Almost Everywhere
Construction spending is viewed as a good indicator of the economy's momentum because individuals, businesses and our governments generally only put money into construction when they are confident enough to justify the building expenses.
On June 1st, the U.S. Department of Commerce reported:
Total Construction
• Construction spending during April 2021 was $1,524.2 billion, 0.2% above the revised March estimate of $1,521.0 billion.
• The April figure is 9.8% above the April 2020 estimate of $1,387.9 billion.
• During the first four months of this year, construction spending amounted to $452.3 billion, 5.8% above the $427.3 billion for the same period in 2020.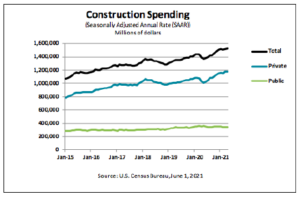 Private Construction
• Spending on private construction was $1,180.7 billion, 0.4% above the revised March estimate of $1,175.4 billion.
• Residential construction was $729.2 billion in April, 1.0% above the revised March estimate of $721.8 billion.
• Nonresidential construction was $451.4 billion in April, 0.5% below the revised March estimate of $453.7 billion.
Public Construction
• In April, the estimated rate of public construction spending was $343.5 billion, 0.6% below the revised March estimate of $345.6 billion.
• Educational construction was $84.8 billion, 0.5% below the revised March estimate of $85.2 billion.
• Highway construction was $99.8 billion, 0.6% above the revised March estimate of $99.2 billion.
More Data Later in the Week
More economic data will be released later this week, including Productivity and Costs data on Thursday and Factory Orders on Friday.
Sources: census.gov
Disclosure: Emerald Advisors, LLC is a registered investment adviser.  Information presented is for educational purposes only and does not intend to make an offer or solicitation for the sale or purchase of any specific securities, investments, or investment strategies.  Investments involve risk and, unless otherwise stated, are not guaranteed.  Be sure to first consult with a qualified financial adviser and/or tax professional before implementing any strategy discussed herein. Past performance is not indicative of future performance.
Copyright © Financial Media Exchange LLC, 
All rights reserved. Distributed by FMeX