Sayonara Spring, Hello Summer
May has arrived, ushering in warmer days and a checked off to-do list:
  ✅ Filing taxes
  ✅ Surviving fluctuating fuel prices and crazy weather
  ✅ Buying a Mother's Day card now, not the day before (hint hint! 👇)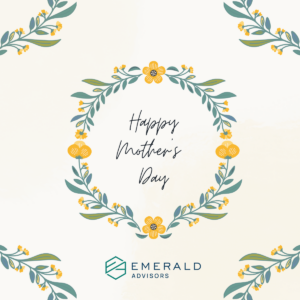 As many folks plan for upcoming summer holidays, Emerald Advisors is focusing on how best to serve clients over the next few months. The summer is a great time to enjoy some quality rest and relaxation which we hope you do. But did you know it's also a great time to think about how you want to support the causes you believe in this year? This month on our blog we discuss Donor-Advised Funds as a gifting strategy you may like to consider. A donor-advised fund lets you donate when you want and maintain a significant amount of control. Sound intriguing? Then visit the blog to find out more.
Here at Emerald, everyone works hard for our clients and it's special when that hard work gets recognized. This month we are proud to honor Michael Smith for his Forbes | SHOOK 2022 Best-In-State Advisor recognition, congratulations! We appreciate all Mike does for the firm and our clients!
So while you are planning, if you need some help coming up with ways to celebrate the special moms in your life check out this site for some fun ideas. If dreaming of the places you want to visit is topping the list, maybe one of these destinations will fit the bill. Emerald Advisors can help when it comes to saving for a special moment or making a trip of a lifetime, just know we are here to help. As always, if you would like to talk with us please feel free to call the office 425.458.3853 or click the link below to make an appointment. 
Disclosure: Emerald Advisors, LLC is a registered investment adviser.  Information presented is for educational purposes only and does not intend to make an offer or solicitation for the sale or purchase of any specific securities, investments, or investment strategies.  Investments involve risk and, unless otherwise stated, are not guaranteed.  Be sure to first consult with a qualified financial adviser and/or tax professional before implementing any strategy discussed herein. Past performance is not indicative of future performance.
©Emerald Advisors, LLC