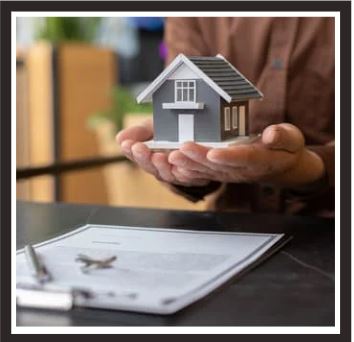 Let's be real, buying a home in times of inflation is tough. Accompanied by massive fed interest rate hikes, including the most recent[i] one, times like these can make the sturdiest of constitutions wobble. The good news is with help and the right information, buying a home can still be a positive experience.
Here are three things you can consider to accurately measure whether now is the right time for you to buy:
Know the interest rate facts
Limit your risk
Evaluate your urgency
Know your interest rate facts
It's no surprise that the cost of borrowing is consistently going up[ii] right now. The average rate on a 30-year fixed-rate loan has risen more than two percentage points even since January bringing the rate to 5.5%.[iii] Going from 3.5% to 5.5% can be a hard rate to swallow. Over time those two percentage points can add a significant increase to your mortgage.
Many people choose a Fixed Rate Mortgage when buying a home for the obvious reason of locking in a fixed rate. Most people are dissuaded by an Adjustable-Rate Mortgage due to the unpredictability of a rising interest rate when the initial lower rate ends. However, there are times when this type of mortgage may be okay to consider.
If you are looking to keep your house loan for a limited period of time and have the means to ride the fluctuating waves of potential rate increases, then an ARM[iv] may be okay. In the current housing market, this could mean you can afford more due to the lower initial interest rate. But the devil is in the details. Be sure you understand the full terms of the mortgage before moving forward, for not all mortgages are equal. You have to find the right fit for you, your family, and ultimately your budget.
Limit your risk
Have your ducks in a row. It's an old saying but in the case of buying a home, it's helpful. Often emotions rise and fall when you are buying a home. There is a certain amount of risk when making the decision to buy a home, but that risk doesn't have to feel bigger than it is. Sites like FHA.com have up-to-date and helpful information that can guide you as you look to buy a home.
For those buyers who are serious, it may be worth your time to get prequalified with an accredited lender. This shows a certain level of commitment to buying and puts your feet in the running blocks if you will, giving you the quickest start possible. It also may give you an edge against another potential buyer.
Evaluate your urgency
There is also wisdom in evaluating your need vs. want of buying a new home or a first home. Are you currently saving money in the place you are living? Are you expecting a child and need more space? Does the home you live in need multiple renovations before you could sell and get the most for your money? Every person's situation is different so weigh up what your top priorities are.
With homes typically selling faster than in the past, the average amount of time being 14 days[v], this can increase the feeling of urgency to buy before it's gone. Dream homes sometimes only come along once, but don't let your feelings of urgency cloud your judgment for the long-term commitment you are making. No one wants a dream that turns into a nightmare.
Remember as well that we are here to help. If you want to discuss your buying power and what is realistic to plan for as you begin this process, set up a meeting with us.
Happy house hunting!
[i] Ewall-Wice, S. (2022, July 27). Cbsnews.com. Federal Reserve hikes interest rates for the fourth time this year. [Online] Available at: Federal Reserve hikes interest rates for the fourth time this year – CBS News
[ii] Egan, M. (2022, June 16). Cbsnews.com. What the interest rate hike means for you. [Online] Available at: What the interest rate hike means for you – CBS Boston (cbsnews.com)
[iii] Bahney, A. (2022, July 19). Cnn.com. Home building stalls as the real estate market cools. That won't help affordability. [Online] Available at: New home construction and builder confidence plunge – CNN
[iv] Liberto, D. (2022, March 12). Investopedia.com. Adjustable-Rate Mortgage (ARM). [Online] Available at: Adjustable-Rate Mortgage (ARM) Definition (investopedia.com)
[v] Bahney, A. (2022, July 20). Cnn.com. Home prices hit an all-time high, even as sales continue to slow. [Online] Available at: Home prices hit an all-time high, even as sales continue to slow – CNN
Disclosure: Emerald Advisors, LLC is a registered investment adviser.  Information presented is for educational purposes only and does not intend to make an offer or solicitation for the sale or purchase of any specific securities, investments, or investment strategies.  Investments involve risk and, unless otherwise stated, are not guaranteed.  Be sure to first consult with a qualified financial adviser and/or tax professional before implementing any strategy discussed herein. Past performance is not indicative of future performance.
©Emerald Advisors, LLC