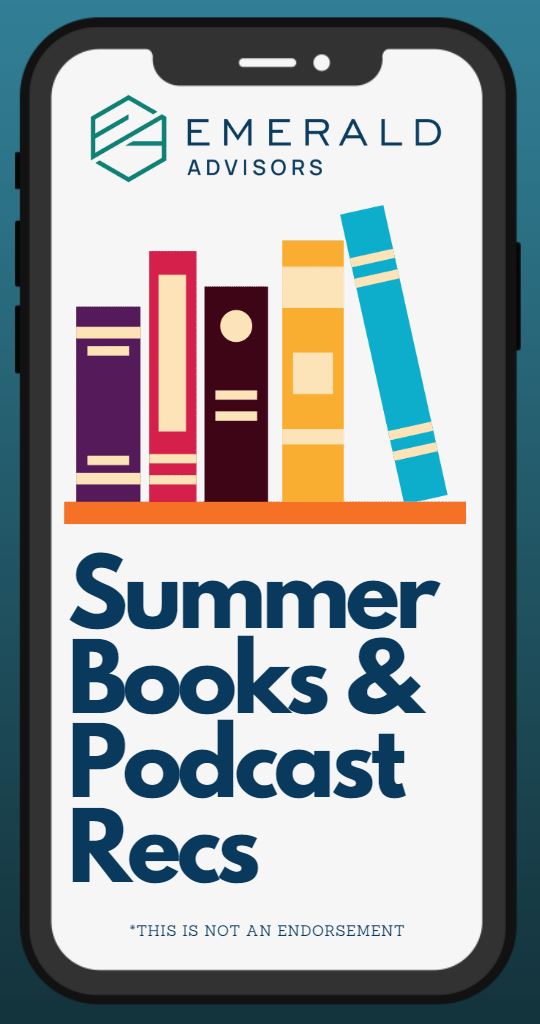 Summer months and holidays are something most of us look forward to. Morning light breaks through our windows stirring us to seize the day and long evenings stretch, inviting us to stay and savor the sunset a little longer. Whether it's getting away overnight alone or planning an extended holiday with family or friends; you may intend to take time out from work-related activities when you get away, opting for less stimulating activities like reading or listening. If that is you this summer then you may appreciate our staff's collection of good reads and good listens.
Like you, our staff enjoys a little R & R. So we asked each of them to give us a book or podcast recommendation to create our first summer reading/listening list to share with clients. So here goes!
*This is not an endorsement of a book or podcast and should not be seen as such.
Disclosure: Emerald Advisors, LLC is a registered investment adviser. Information presented is for educational purposes only and does not intend to make an offer or solicitation for the sale or purchase of any specific securities, investments, or investment strategies. Investments involve risk and, unless otherwise stated, are not guaranteed. Be sure to first consult with a qualified financial adviser and/or tax professional before implementing any strategy discussed herein. Past performance is not indicative of future performance.